Online GIS used to be expensive, too expensive for many cities, towns and small counties. In this article, you will learn how the cloud has reduced the cost of online GIS and made it available to all regardless of budget.
If we went back ten years to look at web GIS systems there is one point we could all agree on, the systems were expensive, very expensive.
A deployment would require a large investment in terms of time, budget and resources.
Things weren't easy even for larger local governments with deeper pockets that could afford the license fees, there would also be a sizeable investment in infrastructure in the form of servers and time either from technical staff or outside consultants.
And it's not like we're talking about a one time cost. Servers maintenance, software support packages and outside consultant hired for updates added a sizable ongoing cost.
The cloud has changed all of that. It's now possible for any local government with data to create maps using nothing more than a web browser. No servers, no coders, no upfront license fees and no support contracts.
You can literally open your web browser, upload a dataset and create an impressive interactive web map in less time than it will take you to read this article.
What's more cloud based web mapping systems suitable for local government start from prices as low as $49 per month.
Why Don't More Small Towns and Cities Use Cloud GIS Systems?
So the obvious question is why aren't more towns and cities taking advantage of these developments in greater numbers?
This simple answer is most simply don't know these options are available.
In a large county or city with a dedicated GIS team, it's reasonable to expect them to be up to speed on all the latest industry developments, but small towns and cities don't have the luxury of a GIS team, they are lucky if they have a single GIS professional.
All things 'IT' usually fall to one resourceful and hardworking individual who is responsible for keeping the whole operation ticking over single-handedly.
Investing time in brushing up on the latest developments in the GIS industry is likely pretty low down the priority list and constantly being pushed further down by more pressing demands in the here and now.
Making The Move to a Cloud GIS System
Most small towns, cities, and counties fall into one of three categories. They either don't have any form of web GIS, the have an old high maintenance system or they have already made the transition to the cloud.
If your town or city doesn't yet have a web GIS system it couldn't be easier to get started. Most cloud GIS providers offer a free trial to give you an opportunity to upload your data and kick the tires.
At Mango we offer a 30-day free trial on all of our plans. Even if you have no intention of using Mango in the near future I would encourage you to go sign up for an account just to get a better understanding of how these systems work. I think you will be surprised by how easy it is.
Let's go ahead and take a look at some small towns that have already made the move and are now able to offer local residents and businesses profession interactive mapping systems.
Case Studies
The Town of Stowe VA (Pop. 4,314)
The town of Stowe Vermont with a population of just 4,314, has an impressive web GIS system that allows residents and business to search for land parcels, view zoning information and flood hazard information.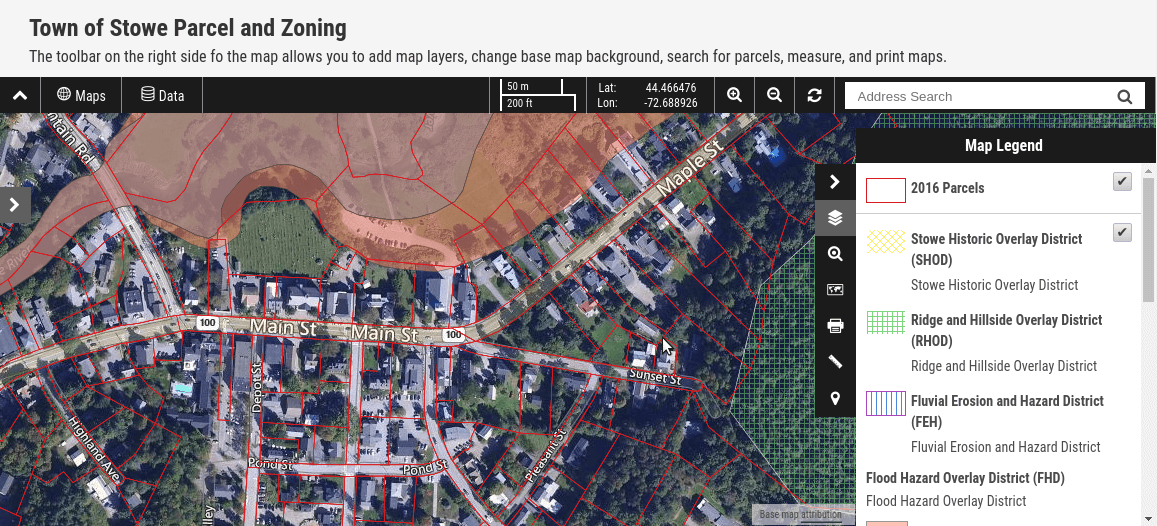 Town of Stowe Parcel and Zoning Map
The system allows residents to easily search for land parcels, view the details and print the results.
Surfside Beach SC (Pop. 4,391)
Surfside Beach is a town in Horry County, South Carolina. Its nickname is "The Family Beach" and has a population of just over four thousand.
Surfside Beach have given their local residents and businesses a comprehensive mapping system with a wide range of maps including land parcels, zoning and flood hazards.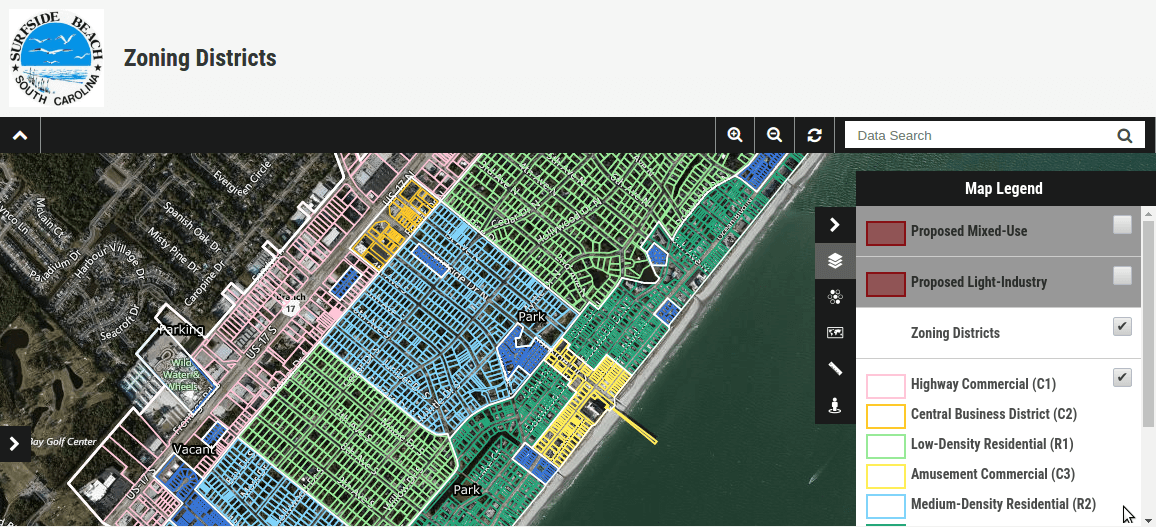 Surfside Beach Zoning Districts
So What Are You Waiting For?
If you thought that your town, city or county is too small for an online GIS system think again.
For a price that's lower than your monthly coffee budget and an initial investment of a couple of days, your town or city can deliver a first class, mobile ready web mapping system to its residents.
What's more, the system will be fully under your control meaning updates can be made as soon as new data becomes available.
No servers
No software programmers
No large license fees
No support contracts
Just happy residents!