Web map portals are by far the best way to present visitors to your site a range of thematic maps for a locality. The beauty of a great web map portal is that you don't have to try and create a map that is everything to everyone.
Each map can deliver a single focused piece of information so users don't have to wade through a mountain of layers, buttons, and tabs.
Want to find your tax assessment ID? No problem. Nearest polling station? School district? Garbage collection routes. Ditto. With a well-planned map portal, we can create a separate map that answers each of these queries in a concise, visually appealing way.
We are visual creatures, and web map portals allow us to quickly scan a grid of thumbnails, read the title and find what we want, fast.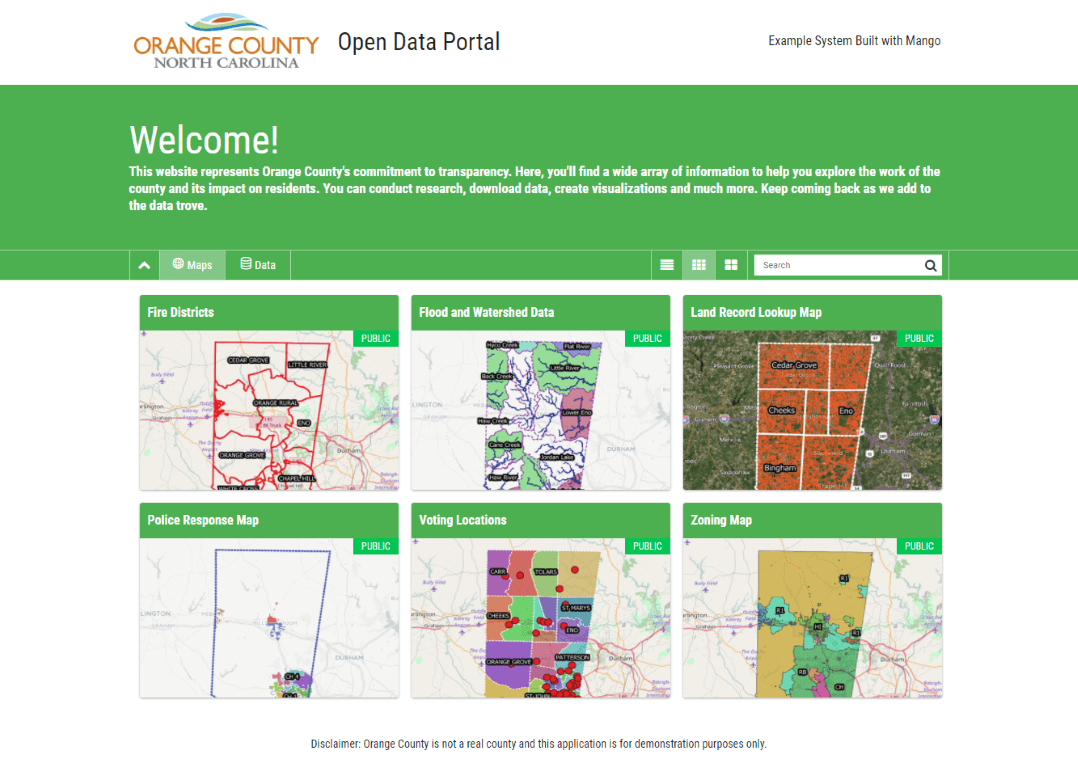 Creating web map portals used to be hard, but with modern web mapping services, this task is as easy and clicking a few buttons to choose which maps will appear in the portal and then go and have fun creating the maps.
What's more, hosted web mapping systems allow us to choose who to share the maps with; we can have an online GIS map and data portal for the public, and we can have an internal portal to share with colleagues or contractors.
Extending the concept further, each map served up on the portal can display only the information that is relevant to the person viewing it. We easily can hide information that is sensitive or not relevant to the purpose of the map.
Clean, concise, compelling.
To gain user's trust, you can even stylize the portal to look exactly the same as your main organization's website; logo, colors, navigation, and so on. We can also configure the URL of the map portal to be a sub-domain on your own website e.g.:

mywebsite.com/maps
Open Data
Many organizations today have committed to providing open data to citizens and the general public. This can be a daunting prospect for those starting out in terms of choosing a system, setting it up and maintaining it. There are many competing systems out there, many of which are complicated to set up and host.
The cost and time of setting up an open data portal can be daunting and if external consultants are required, maintaining or updating the system becomes a long-term headache.
Luckily, modern web mapping systems take the headache out of setting up an open data portal. Once your data is uploaded, you can easily mark it as public and add some text to inform people what the data is about.
Anyone browsing your open data portal can easily preview the data and if it's of interest to them, download it in a standard geospatial data format for further analysis.
Restricting access to your proprietary, or otherwise private data is equally simple. Data access can be restricted so that private datasets that are only available within your organization, and it's not complicated - it's the default for all data uploaded to Mango. Make available what you need to, and the rest is secured - visualized on any public maps you need, but users have no access to the underlying datasets.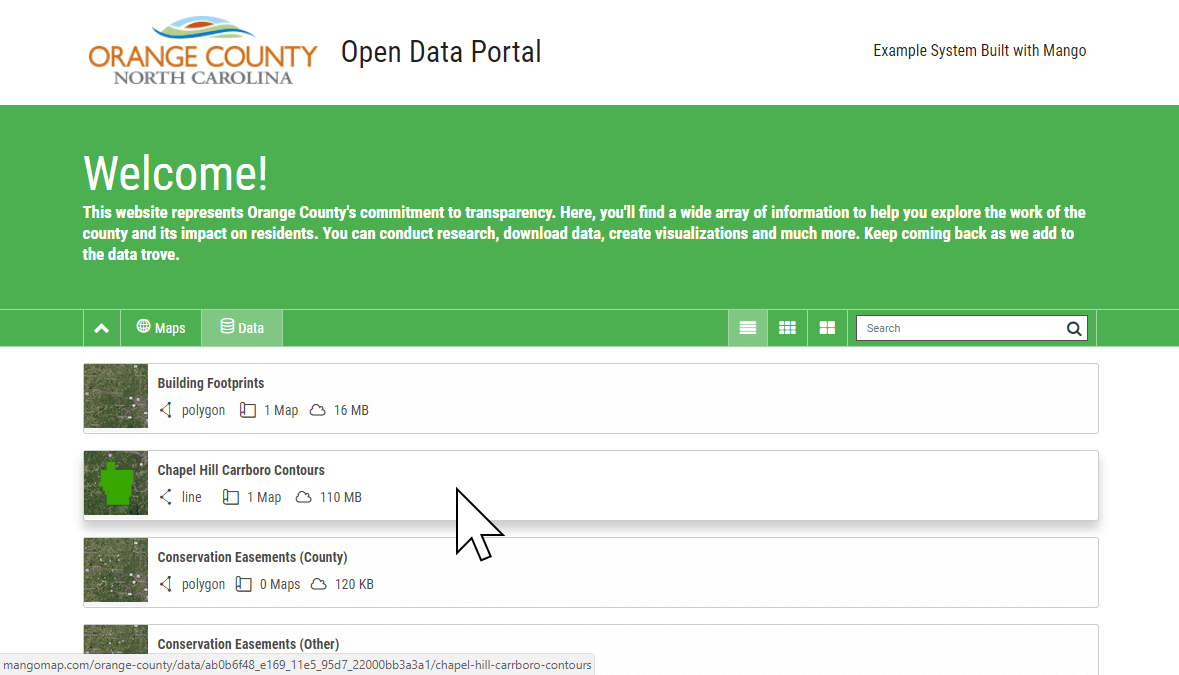 Extending the Portal
A good data portal will also do more than simply serve a choice of maps to view. Commuicating with the public the right way is crucial for most organizations.
Remember, although someone may have discovered your site, you need to assure them that they are in the right place, and give them a bit of an introduction to what the site is about. Failing to communicate in the right way could mean they bounce or misunderstand the map information they are seeing.
A splash page which pops up when the page first loads is the perfect way to do this. You can add your own text to let them know who created the site, what information it contains, if there are any limitations in the data such as age or completeness; and if there is anything they should be aware of in using the data.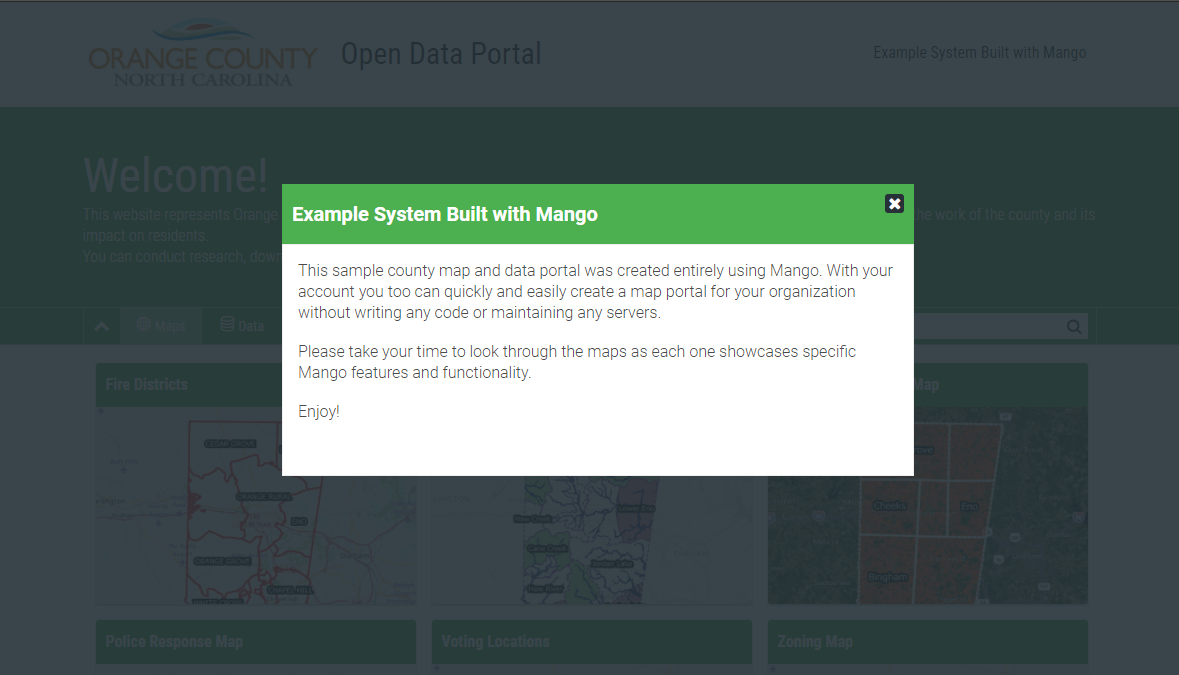 Data is, after all, an abstraction of the real world and there are inherent limitations that the non-expert user needs to be aware of.
To engage the user further, we can also add contact information to the person responsible for the site, links to other resources or web pages hosted by the organization.
All in all, users should get the impression that they are in the right place, understand how to use the maps appropriately and who they can get in touch with if they need to.
All in all, we need to deliver a great user experience that is consistent across desktop and handheld devices that allow map users to easily find the answers they need.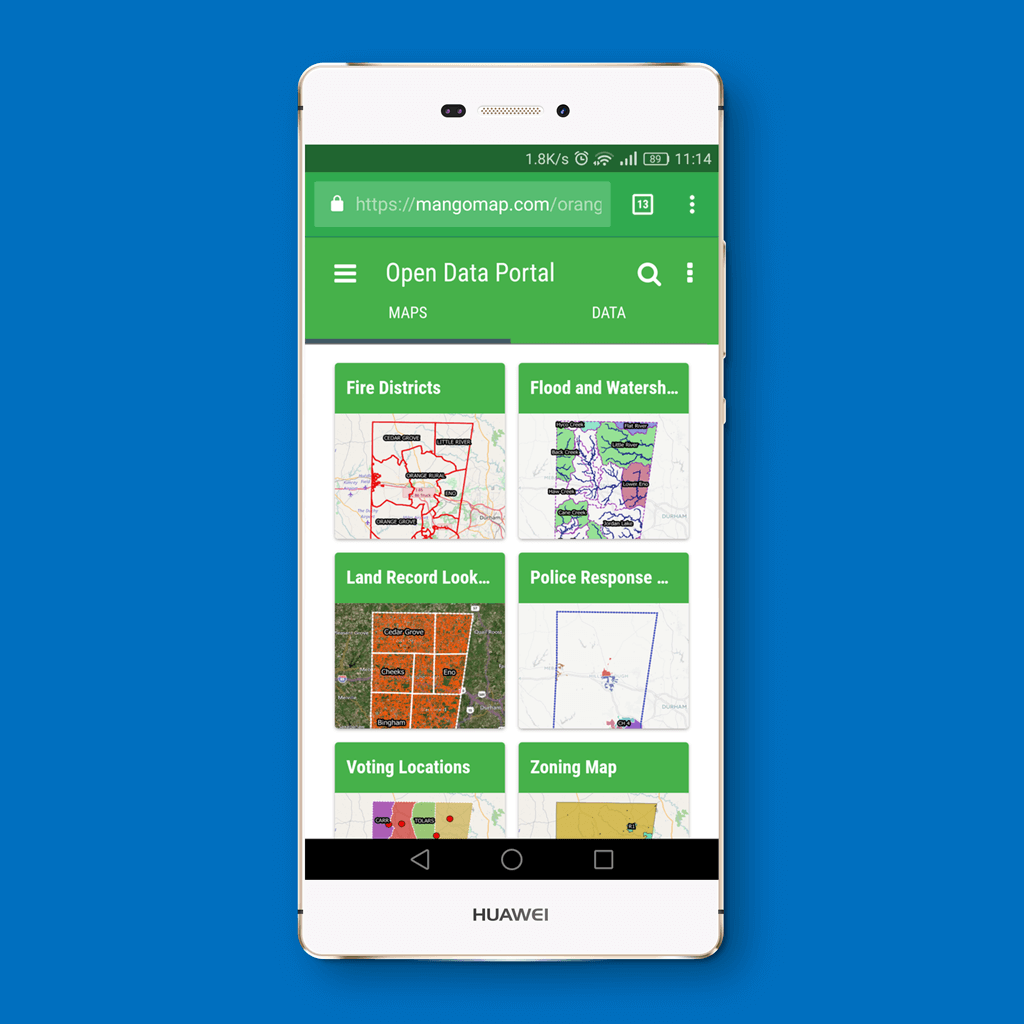 Don't just take our word for it; here are some of the organizations that user Mango to create and host their map and data portals:

A Great Online GIS Map and Data Portal Begins with a Great Map—Yours
Try Mango free for 30-days, and start building your ultimate data discovery resource today.