Northwind Scout-N-Hunt Demo Map site
For this demo we are providing you with the information for the Manistee and Huron USFS. As you can see there is not a lot of habitat available in these two areas that fall in the 9-16 year old age class. However, we felt this was a good opportunity for you to work with the demo and get a chance to see what the site can do.
---
This site will allow you to view the Prime Aspen habitat in Michigan's Manistee and Huron National Forests. This demo map will give you a change to work with the viewer and see what it can do.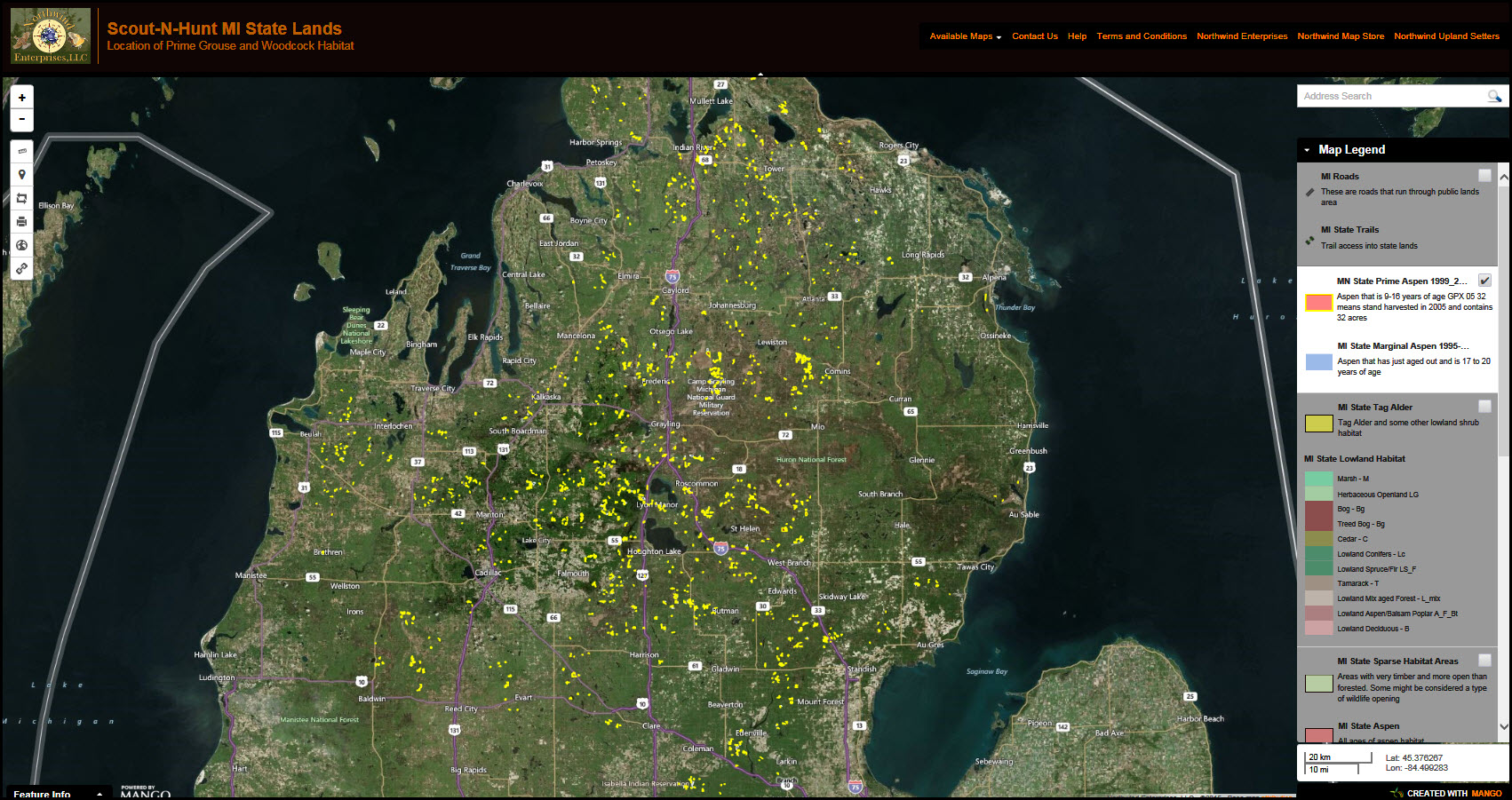 Above is an example of all the Prime state cuts (in yellow) located in Michigan's lower peninsula.
The cluster pin features allows you to determine areas of Prime Habitat concentrations within these two National Forests.
---
Michigan both Federal and State combine have over 2900 cuts identified representing over 92,000 acres.
Wisconsin both Federal State and County represents over 4000 cuts with a total of over 129,000 acres.
Minnesota both Federal and State represents over 6000 cuts with a total of over 177,000 acres
PA State, Federal and State Game lands represents over 5200 cuts with a total of over 200,000 acres.
We are in the process of preparing viewers for the following states New York, Vermont, New Hampshire, Maine, Ohio, West Virginia, Virginia, Tennessee and North Carolina.
---
Below is a screen shot of all the state's Prime Aspen clusters: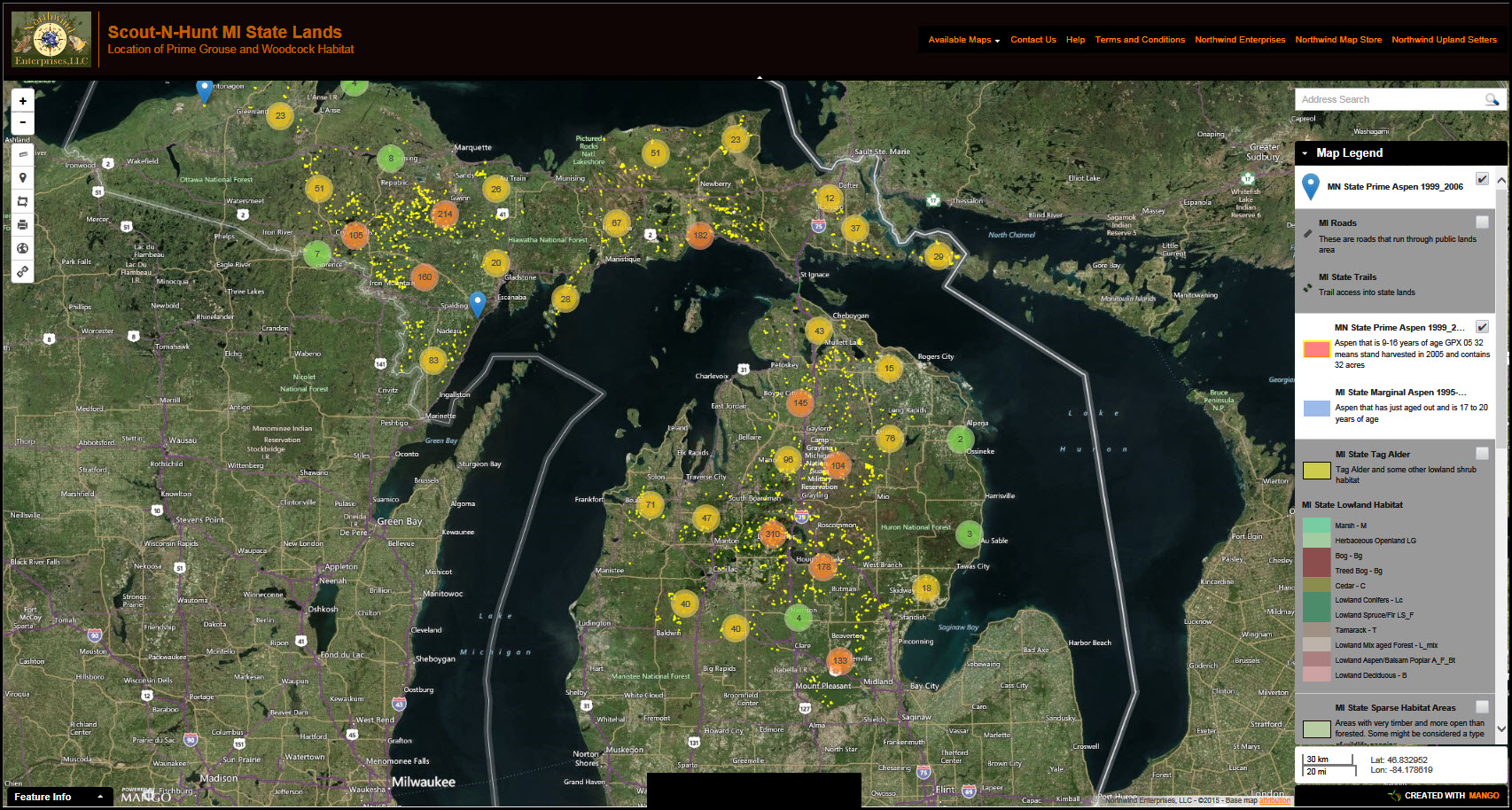 Each pin number denotes the number of cuts concentrated in that area.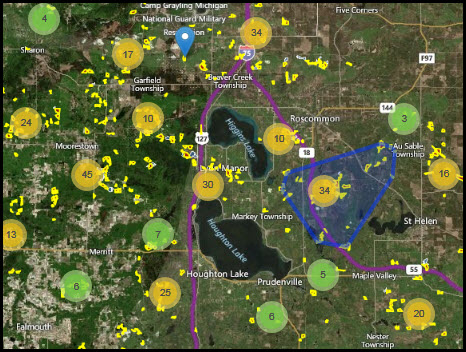 Above is a close-up of an area near Houghton Lake in the lower peninsula. The blue highlights the coverage area for yellow pin 34. Again, there are 34 Prime aspen cuts within the blue area. The blue boundary box appears as you hoover your cursor over the pin.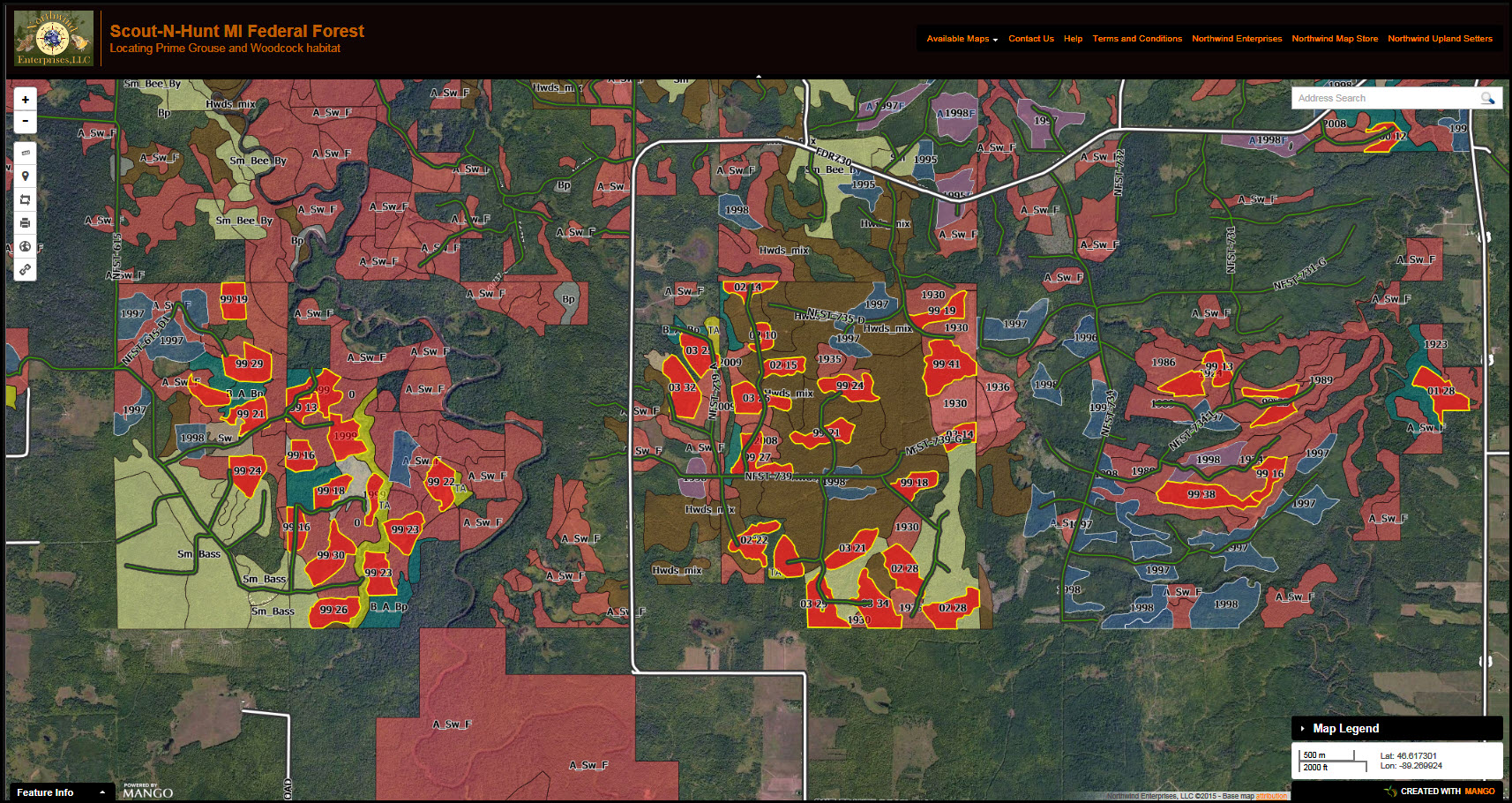 The screen shot above shows Prime Aspen near Bruce's Crossing and the various habitat that surrounds each Prime cut.
Prime aspen is defined as 9-16 years of age. Also shown are the Marginal aspen cuts that have just aged out and are 17-20 years of age.
By adding the marginal cut data to the map. It is easy to determine where the grouse population was and where it will shift to find new habitat.
---
---
MAP FEATURES
All features in the legend denoted with a "check box" can be turned "On" or "Off". Only a couple of the features will be checked when the program opens. These are preset so that your computer will be able to process the data faster.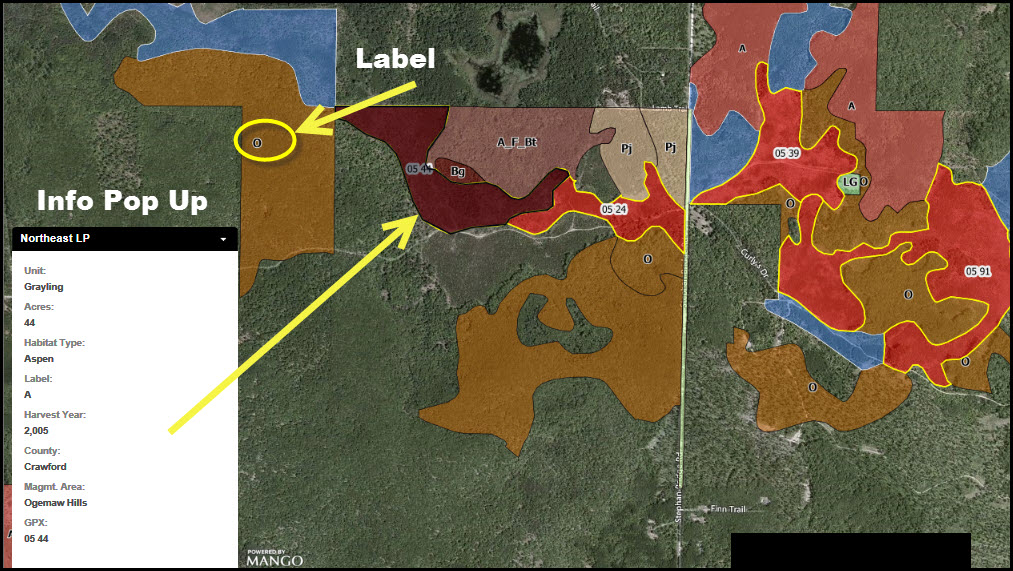 Most features when "clicked on" will have a "Pop up" This feature provides additional information about the habitat shape that you have clicked on.
Unlike this Demo, individual purchased statewide Scout-N-Hunt subscriptions are "Log in and Password Protected"
In the legend all the habitat is identified, color coded and labeled for ease of referencing the type of habitat that you are looking at.
Be sure to check out our tutorial page for more information on the various features and tools of the map viewer.