Alternative Provision of Basic Education and Training (APBET)
Education is critical for development of any country and Kenya as a country is keen to improve the literacy of its citizen. It has shown this by reduction of the cost of acquiring education and providing free primary education. This was a good move but the challenge is that there are few public schools in relation to school attending pupils/students. To remedy the challenge, Kenya has privatized education so as to reach the unreached, thus improving access to education, and also
improving learning outcomes by way of fostering competition. According to Lubienski & Lubienski (2006), privatization refers to policies promoting liberalization and deregulation that lead to the establishment of a market in education1or, atleast, to competition between public and private providers of education.

2007 Kenya National Adult Literacy survey revealed that 7.8 million Kenyans are illiterate,with people aged 15-30 years constituting 35% of the illiterate population. The challenge of illiteracy is particularly acute in informal urban settlements, arid and semi-arid lands and in pockets of poverty across the country. It is mainly in these environs that Alternative Provision of Basic Education and Training (APBET) institutions have emerged as viable options of responding to educational needs of children, youth and adults who are unable to join formal educational institutions Ministry of Education Science and Technology.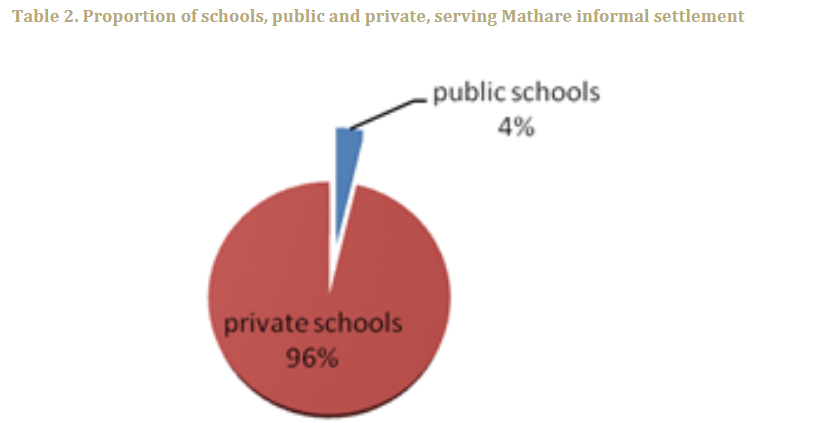 Source (GI-ESCR; Hakijamii; Kituo cha sheria; The Crandle; KNUT, 2015)
Laws that guides Education in Kenya
The Constitution of Kenya (2010),
Article 43, recognizes that every person has a right to education
Article 53(b) states that every child has a right to free and compulsory basic education
Basic Education Act 2013 Section 39(c), mandates the Cabinet Secretary to ensure that children belonging to marginalized, vulnerable, or disadvantaged groups are not discriminated against or prevented from pursuing and completing their basic education.

Regulation of APBET schools ensures accessibility of quality education to the marginalized areas. APBET need to be implemented in order to ensure children in privatized schools have affordable and quality education as every child in Kenya.