Overview
---
The Proximity Analysis tool lets you build powerful spatial queries to determine the relationship between selected points or features and neighboring points or features across one or more datasets. For example you could find all of the houses within a flood zone, or the total population of all of the census tracts within five miles of a business location.
How To Use
---
Let's pretend we work for the fire department and we want to know how many building with more than 30 floors are withing 1 mile of our firehouse. We can do that by building the query as displayed in the screenshot below, we should also click on the filter icon next to the dropdown that says buildings and set the minimum number of floors to 30. Next press the 'click to select' icon (pointing hand) and select one of the firehouses on the map (red circles).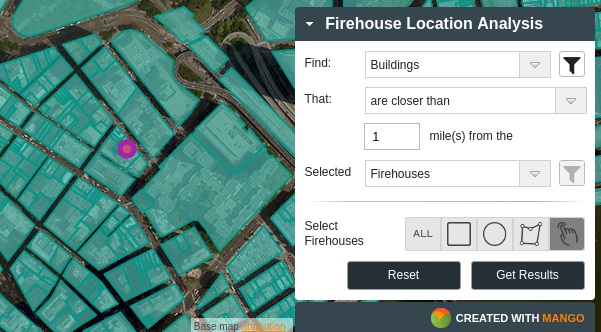 When you press 'Get Results' all of building that are within 1 mile of the firehouse and have more than 30 floors will be selected. You can then view the results as a custom aggregate report that contains information about the total floor space of those buildings, view the results as a table or download the results as a spreadsheet.
How To Configure
---
From the administration area of your map the proximity analysis tool can be activated from the toolbox panel in the administration toolbar. See the following section in the documentation for more details.

Icons made by Freepik from www.flaticon.com