Ground Penetrating Radar Data of Dauphin Island, Alabama
---
Instructions: Click on a line on the map to see the profile data

About:
From April 13 to 20, 2013, scientists from the U.S. Geological Survey St. Petersburg Coastal and Marine Science Center (USGS-SPCMSC) conducted geophysical and sediment sampling surveys on Dauphin Island, Alabama, as part of Field Activity 13BIM01.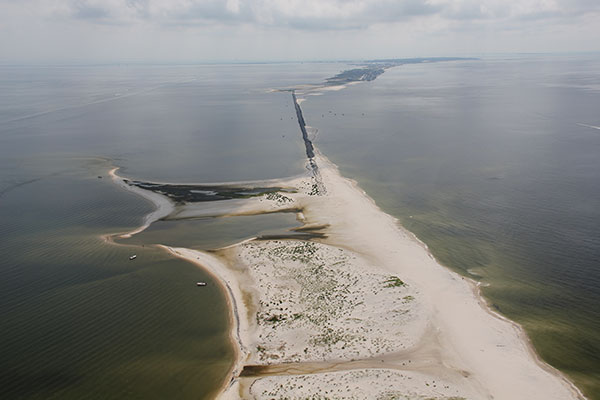 The objectives of the study were to quantify inorganic and organic accretion rates in back-barrier and mainland marsh and estuarine environments. Various field and laboratory methods were used to achieve these objectives, including subsurface imaging using Ground Penetrating Radar (GPR), sediment sampling, lithologic and microfossil analyses, and geochronology techniques to produce barrier island stratigraphic cross sections to help interpret the recent (last 2000 years) geologic evolution of the island.

Citation: Forde, A.S., Smith, C.G., and Reynolds, B.J., 2016, Archive of ground penetrating radar data collected during USGS field activity 13BIM01—Dauphin Island, Alabama, April 2013: U.S. Geological Survey Data Series 982, https://dx.doi.org/10.3133/ds982.